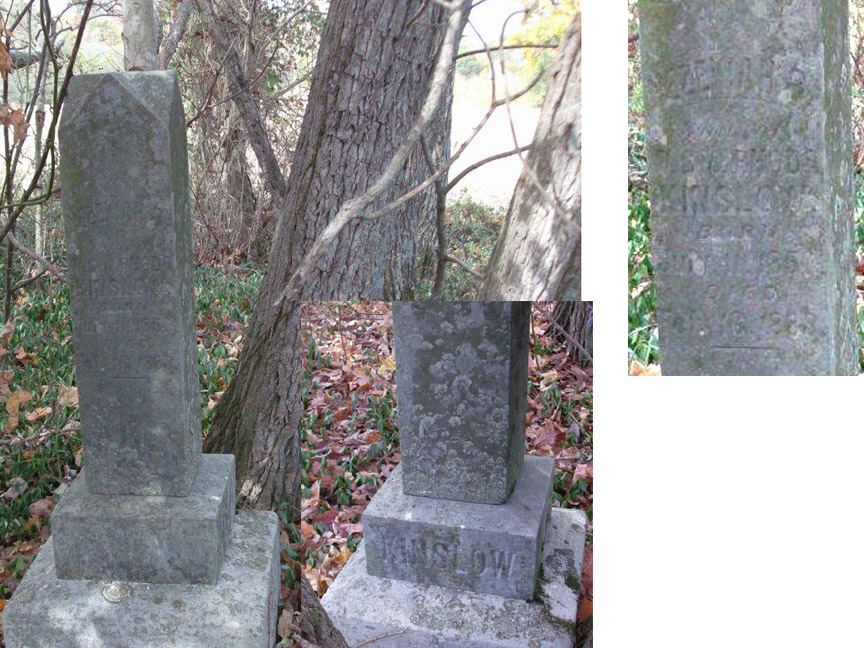 Double Stone
Hezekiah B. Kinslow - b. July 11, 1850; d. February 16, 1883 Rhoda Bell Kinslow – b. June 8, 1871; d. March 24, 1872
These are children of William Sneed Kinslow and his 2nd wife Rhoda Gist (who was a daughter of Balus Gist).
The third known burial here is Aaron T. Kinslow – b. December 17, 1842; d. January 31, 1862.
He was in Co. D 6th KY Regt. Volunteers CSA

There were at least four to six fieldstones, and the footstones had been moved to a pile together by a tree. I would say that Aaron Kinslow (4 January 1792- 8 November 1834), son of Conrade Kinslow, is buried here, as is his wife Jane Jones Kinslow (b. ca. 1795; also died in 1834), daughter of John Jones.
Another burial would possibly be Sneed Kinslow's first wife, Elizabeth Duncan, daughter of Thomas Duncan and Judith Foster. Elizabeth is the mother of the Civil War soldier, Aaron T. Kinslow, buried in this cemetery.