Neighbors Cemetery
Cumberland Co., Kentucky
Located not far from the Bows School House (on State Hwy 449) Cemetery off at the end of a small side-road called Finley Road, not to be confused with Scott-Finley road on the other side of the Bows School House Cemetery. Someone place a new marker there in 1968. Sadly this cemetery no longer appears to be cared for.
Photos and information provided by
Ed Anderson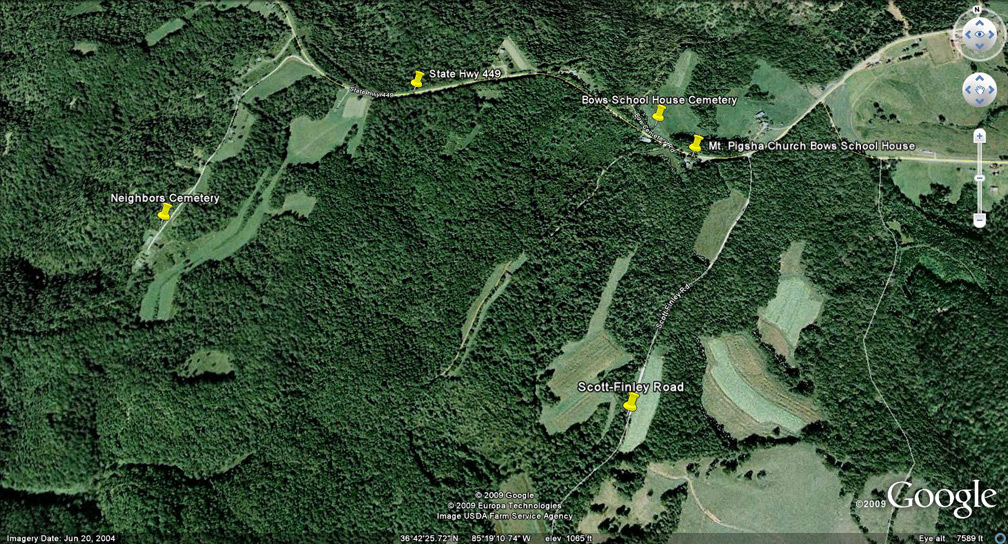 Listing with cream background from information provided by the mother of Kenneth F. Neighbors, no marker found.
There are likely more unmarked graves here
Name

Notes

Ashinhurst, Joel E.

married Nancy Ellerine Neighbors, d/o Henry Bowe Neighbors

Irby, Emillia

s/o E. C. & O. B.

Irby, Infant

s/o E. C. & O. B.

Irby, Julia F.

d/o E(lbert) C. & O. B. Irby

Irby, Julia (not Julia F. listed above)

Irby, Orleanie

first wife of Ilbery Irby

Monk, Jane

Monk, S. C.

CO E 5TH KY CAV

Nabers, Ibah

stone broken

Simpson, C. W.

(I belive this to be the stone of Jane (or Sallie) Nighbors, first wife of of C. W. Simpson who died bout this time. C. W. Simpson is buried at Rose of Sharon)

- Kenneth F. Neighbors

Neighbors, G. W.

CO E 5TH KY CAV

Neighbors, H. B.

CO A SO. CUMB'D BATT'N KY VOLS

Neighbors, Louisa Fairchild Sewell

m. 10/17/1847