Pedigo Cemetery
(also known as Ralston and Light Cemetery)
Canmer, Hart County, KY
DIRECTIONS: From Hwy 31E at Canmer, KY, turn east onto Hwy 677. After 1.3 miles, turn right onto Hwy 1573. After 1.6 miles, turn left onto Hwy 1572 and continue 0.3 miles to the Pedigo Cemetery on the left.
COMMENTS: Restoration and documentation provided by the Pioneer Cemetery Preservation Group.
Research provided by Judy Lawler, Dee Tapp, and Jean Hedgepeth.
Photos provided by Doris Phillips, Judy Lawler, and Larry & Jan Hedgepeth.
Click on image for larger view
| | | |
| --- | --- | --- |
| | | |
| Sarah Elizabeth Pedigo Turner daughter family | George and Hattie Ralston | James Wallace Turner |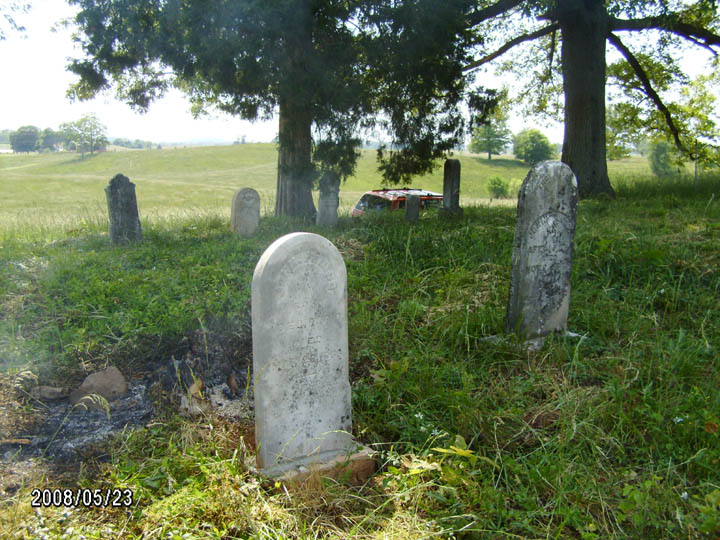 Name

Birth Date

Death Date

Notes

8 Jun 1875

22 Dec 1930

w/o Walter G. Light
d/o Alexander Oscar & Nancy (Roundtree) Huffman

24 Sep 1871

21 Jan 1920

h/o Lucy B. (Huffman) Light
s/o John Thomas & Sophia (Keen) Light
Original stone of Walter G. Light

( click on stone for larger image)
15 Apr 1815

9 Nov 1877

w/o John William Pedigo
d/o Thomas & Hannah (Dale) Shirley

8 Dec 1810

28 Mar 1866

h/o Dicy (Shirley) Pedigo
s/o William & Elizabeth "Betsy" (Cliff) Pedigo

22 Mar 1894

18 Mar 1918

1st w/o Rush Ralston
d/in-law of George & Nancy Caroline (Russell) Ralston
d/o James Reuben & Mary Elizabeth (Bale) Hedgepeth

Ralston, George Eldridge

19 Aug 1853

23 Sep 1922

Husband of (1 st) Hattie Alice (Turner) Ralston and (2 nd) of Nancy Caroline (Russell) Hall Ralston
s/o George Jefferson & Hamutal (Quesenberry) Ralston

Ralston, Hattie

15 June 1891

28 Jul 1891

d/o George Eldridge & Nancy Caroline (Russell) Ralston

Ralston, Hattie Alice (Turner)

16 Jan 1865

18 Aug 1889

1 st w/o George Eldridge Ralston
m/o Laura Edna Ralston
d/o James Wallace & Sarah Elizabeth (Pedigo) Turner
grandchild of John William & Dicy (Shirley) Pedigo

1 Sep 1852

14 Oct 1945

2nd w/o George Eldridge Ralston
d/o Isaac Davis & Berry Ann (Shuffett) Russell

Turner, James Wallace

(Unmarked Grave)

28 Nov 1836

24 Feb 1876

h/o Sarah Elizabeth (Pedigo) Turner
f/o Hattie Alice (Turner) Ralston
s/in-law of John William & Dicy (Shirley) Pedigo

8 Graves Unmarked