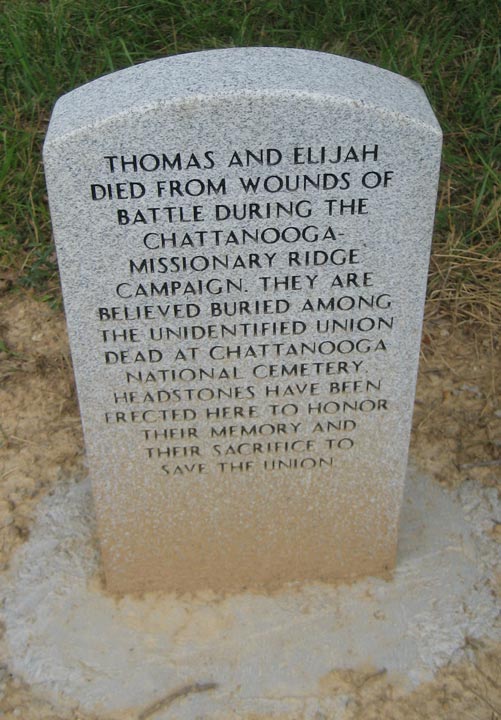 Elzia & Elizabeth Douglass Arterburn, who owned 175 acres to the right(east) of this road, in old Pikeville (1 mile north of Flippin, Hwy 249), may be buried here in Ward-Lewis Cemetery or in an unmarked cemetery in the middle of a field one- quarter-mile east of this site (coordinates are noted on their stone). Two of their grandchildren who died in infancy and who are without recognizable headstones may be with them, also. Memorial stones for Elzia & Elizabeth and their two sons who died in the Civil War were erected here by descendants.
Descendants of these Lewis-Ward-Arterburn families believe that William Hays Lewis and his wife, Elizabeth Simmons, are buried here, along with Henry Clay Ward (son of Clinton) and his wife, Mary Elizabeth Ford, and perhaps other family members, too. There are at least a couple or more field stone markers present, now almost obscured by grass, in this old cemetery.
Mary Ward (wife of Clinton) was the daughter of Hays and Elizabeth Lewis, and Charles Lewis was their son. Hays Lewis was the local blacksmith in Pikeville, whose shop was located near this old cemetery, and who owned the 43-acre farm left of the road. Originally, the old Pikeville to Indian Creek Road ran along the opposite side of this cemetery. Lewis' estate Deed (1873) first set aside one-quarter acre for this cemetery. a provision retained in subsequent Deeds for this property, and unusual for private family cemeteries of this time and place. Samuel Patten Arterburn, son of Elzia, purchased this farm and cemetery from Ward family heirs in 1885, and it remained in the Arterburn family until 1944.
Hays Lewis and Elzia Arterburn co-founded the Methodist Class at Pikeville (1847) that became Bethel Methodist Episcopal Church, South (1857), which stood a few hundred feet southeast on Bethel Branch--on Arterburn land. This cemetery site might have been intended by Lewis as a burying ground for Bethel Church. Hays Lewis, Clinton Ward, and Elzia Arterburn served as trustees of Bethel Church.
At least one tradition survives that some graves were disturbed when the new road was built (1949-50), which seems a clue that this cemetery could be larger than the existing tombstones would indicate. If anyone has ancestors buried here other than those named above, or has any additional information about this old cemetery, please let us know!