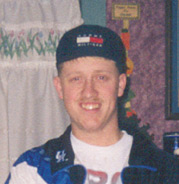 The Glasgow Daily Times
July 20, 2001
Tracy A. Sherfey

Glasgow -- Tracy A. Sherfey, 26, of Glasgow, Ky., died Wednesday, July 18, 2001 in the Temple Hill community as the result of a motorcycle accident.
Born in Barren County, he was a son of Harold and Betty Francis Sherfey of Temple Hill who survive. He was an employee at Amak Brake in Glasgow. In addition to his parents, he is survived by his wife, Micah Bell Sherfey; one son, Trevor, at home; one sister, Tammy Sherfey of Scottsville; three brothers, Todd Sherfey and wife Sherri, Tim Sherfey and
wife Debbie and Terry Sherfey and wife Sharon, all of Glasgow; maternal grandmother, Lucille Frances of Tompkinsville; and paternal grandparents, Charlie and Marie Sherfey of Glasgow.
He was preceded in death by his maternal grandfather, Orville Frances. Funeral services will be 2 p.m. Saturday at the A. F. Crow & Son Funeral with burial in the Poplar Log Cemetery. Visitation will be after 10 a.m. Friday at the funeral home.The family requests memorials be made to a memorial fund established at the Edmonton State Bank for Micah and Trevor Sherfey, wife and son of Tracy Sherfey.