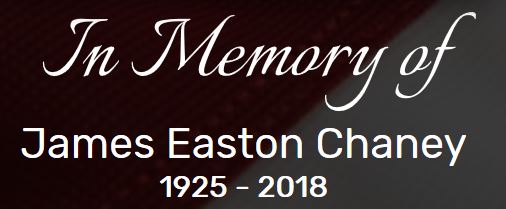 James Easton Chaney age 93, a resident of Hardyville, passed away Saturday August 4, 2018.
Born in Bowling Green, James Easton grew up on a 7th generation Chaney farm in Three Springs, KY with parents Van Easton and Mary Emma (Slaughter) Chaney, brother Thomas Fields Chaney and sister Elinor (Meddis) Hay. He attended Horse Cave High School and Bowling Green Business University and was an Army Air Force WWII veteran serving in the China Burma India theater.
During his career at Canmer Deposit Bank, he served countless families in the community and helped found the Hart County library and the Green River Valley Water District for Hart and surrounding counties. He served on the soil Conservation Board for 22 years, and, along with his sons, established one of the region's first registered Charolais cattle herds. James Easton was a deacon of his church since the age of 21 and a 69-year member of the Masons.
He is survived by his wife of 71 years, Dixie (Burks) Chaney; four children, Mary Anne (Bill) Arnold, Charles (Terri) Chaney, Joe Chaney and Melody Chaney; and two grandchildren Nathan Chaney and Caity (Shawn) Houchens, two step-grandchildren Mindy(Kevin) Banks and Leigh Arnold Kayrouz; and great-grandchildren Molly, Joshua, Elizabeth, Jonathan, and Eleanor.
The family will be accepting friends from 5pm to 8pm on Tuesday, August 7th at Sego Funeral Home in Munfordville and from 9am to 11am on Wednesday, August 8th at Canmer Baptist Church, Church St., Canmer, KY with services at 11am. Burial will be at Pearl Webb Cemetery. Masonic service will be 6:30pm Tuesday at the funeral home.
In lieu of flowers, memorial gifts can be made to the Baptist Seminary of Kentucky, 400 E. College St., Box 358, Georgetown,KY 40324-1696 or to Hart County Scholarship Alliance, P.O. Box 501, Munfordville, KY 42765.