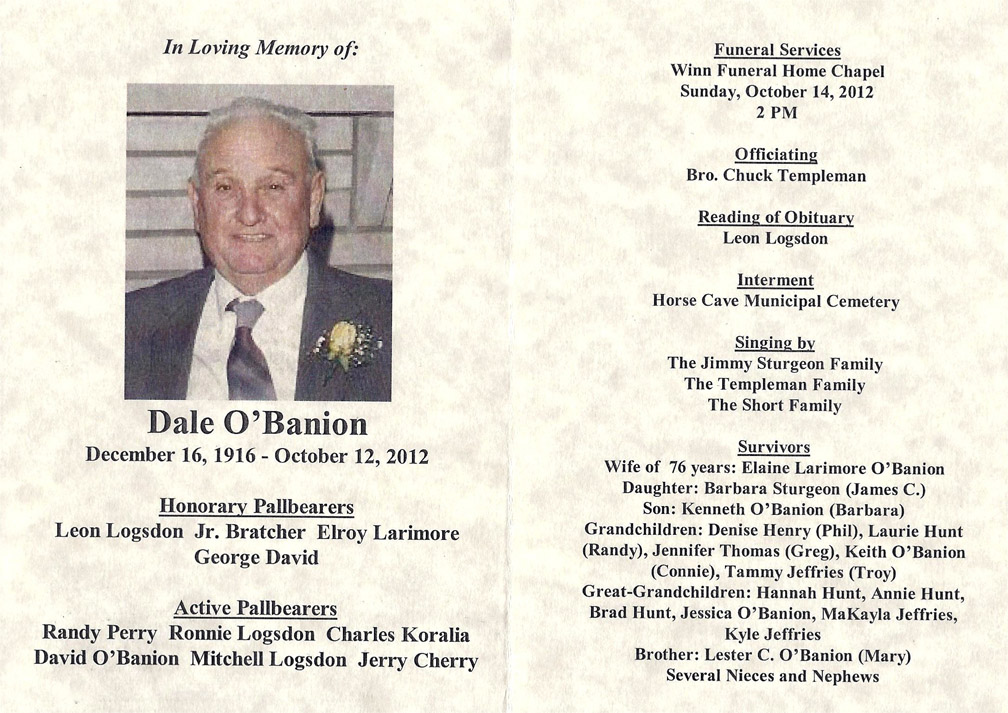 Dale O'Banion, 95, of Horse cave passed away Friday, October 12, 2012 at Caverna Memorial Hospital.
He was a Hart County native, retired farmer, a former Board Member of the Hart County Farm Bureau and Southern States CO-OP, worked many years for several tobacco warehouses in Horse Cave and a long time member and Deacon of Lonoke Baptist Church.
He was preceded in death by his parents, Ethridge C. O'Banion and Mary Thompson O'Banion; a daughter, Ramona Marie O'Banion; 3 brothers, Raymond O'Banion, Dee O'Banion and Ralph O'Banion; 2 sisters, Vetra Isaacs and Geneva Logsdon; 2 grandchildren, Timmy O'Banion and Dewayne O'Banion.
Survivors Include

His wife of 76 years: Elaine Larimore O'Banion, Horse Cave
Daughter: Barbara Sturgeon (James C.), Horse Cave
Son: Kenneth O'Banion (Barbara), Horse Cave
5 Grandchildren: Denise Henry (Phil), Bowling Green, Laurie Hunt (Randy), Floyds Knobs, In., Jennifer Thomas (Greg), Nashville, Tn., Keith O'Banion (Connie), Horse Cave, Tammy Jeffries (Troy), Horse Cave.
6 Great-Grandchildren: Hannah Hunt, Annie Hunt, Brad Hunt, Jessica O'Banion, MaKayla Jeffries and Kyle Jeffries.
1 Brother: Lester C. O'Banion (Mary), Louisville
Several Nieces and Nephews

Funeral Services:

Winn Funeral Home Chapel, Sunday, October 14, 2012 at 2 PM with burial in the Horse Cave Municipal Cemetery.

Visitation

Winn Funeral Home Chapel, Saturday, 2PM - 9PM and after 9 AM, Sunday until service time.